Best Practices in the dosage of Release Agent.
Pressurized Tanks and Spray Guns.
Author: Alejandro Domínguez M. | adominguez@interlub.com | July 11, 2019
Each process, part and release can be different, however, the productivity of companies can always be increased. It is through dosing systems that several improvements can be achieved at once and with a relatively minimal effort.
These systems regularly consist of: tank or reservoir of pressurized material or pump, spray gun, regulators and valves, as well as hoses and other customizable attachments.
The optimal dosage is related to one, several or all of the following:
• Release power of the release agent recommended for the process.
• Appearance.
• Porosity / Roughness.
• Residue on the mold.
• Semi-permanence (more than 2 demoulds per application).
For the vast majority of applications where relatively low flows (less than 120 ml per min) are required, fine spraying and consistency under the conditions of each application, Intermol recommends LVHP (Low Volume - High Pressure) spray equipment.
Compared to HVLP (High Volume-Low Pressure) units which offer a higher flow rate and are used in more robust applications such as paints, coatings...etc. The equipment we recommend has been specially developed for release agents or low viscosity fluids and thanks to its control and ergonomics are ideal for the molding process of plastics, rubbers and other components.
What to keep in mind?
>

Our experts have formulated an equation that will allow you to calculate the optimal release agent dosage volume according to your process, mold size, and other considerations.

This formula develops each of the variables to consider, from the incoming air pressure to the selection of the nozzle, which is the last piece in contact with the fluid.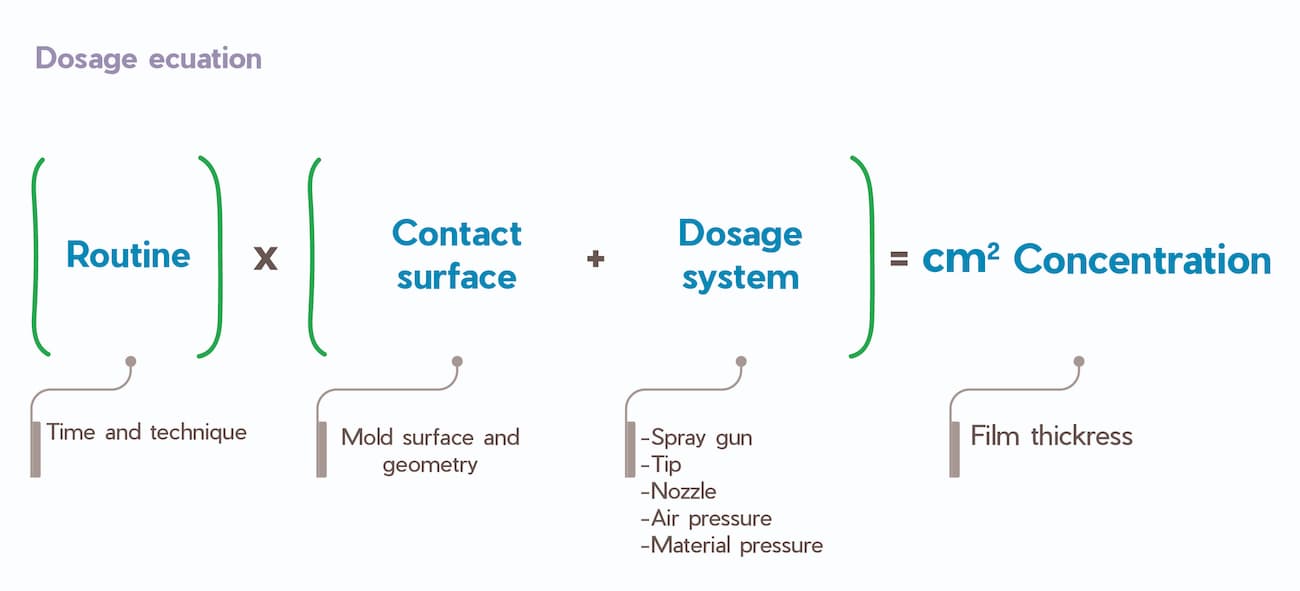 What is an optimal release agent?
In Intermol we consider an optimal demould when a soft demould is met with minimum effort and maximum quality in the properties of the piece such as gloss, appearance, porosity or those that our customers have as a requirement.
It is from an exact composition between the recommendation of a high-performance product and a successful application that this point can be accessed as shown in the graph.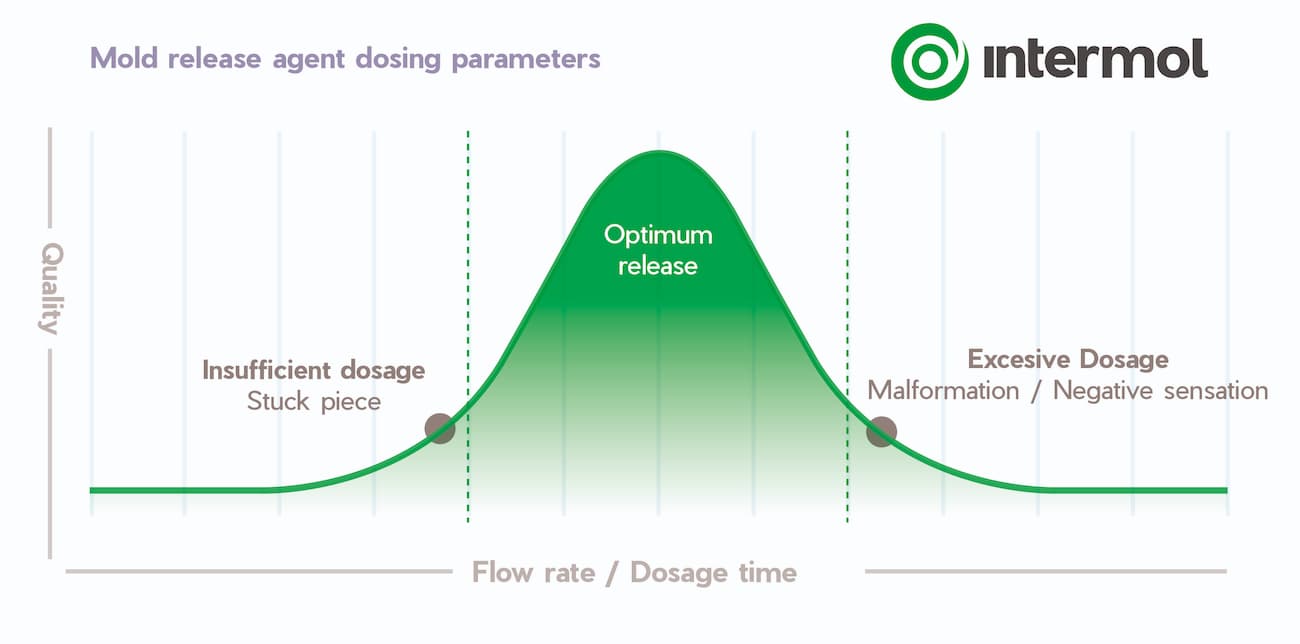 It is important to mention that the saturation of the release agent on the mould does not improve the release effect, on the contrary, in most cases there will be defects on the surface of the part, malformations, excess residue and others.

.

Thus, in case the demoulding agent being used does not work properly, even if a large amount is applied, another more effective option should be sought.

If after reading this you think there is an area of opportunity in your application method and dosing equipment please contact us .