Fiberglass mold release agent INTERMOL M-110.
Semi-permanent technology in a single product.
Author: Alejandro Domínguez M. | adominguez@interlub.com | August 18, 2020
Fiberglass as well as the so-called composites are very resistant materials and widely used for their versatility. They obtain their characteristics of hardness and lightness thanks to the combination of resins and the structural reinforcement of fiberglass cloth.
It is common to be in contact with fiberglass on a daily basis in objects such as: truck and bus chassis, swimming pools, flower pots, boats, bathroom parts such as tubs, bathtubs and many more.
Conventional release agent
At present the processes of curing and application of release agents are quite complex and the process of curing or mould preparation can take hours or even days.
Most of the current release agents offer a system that includes 2 to 4 different materials in order to obtain a strong and semi-permanent film on the mould.
Primers + Sealers + Demoulding agents are commonly used in an application ranging from 3 to 10 coats with 15 minutes of removal in each one and with surface polishing in each one of the phases.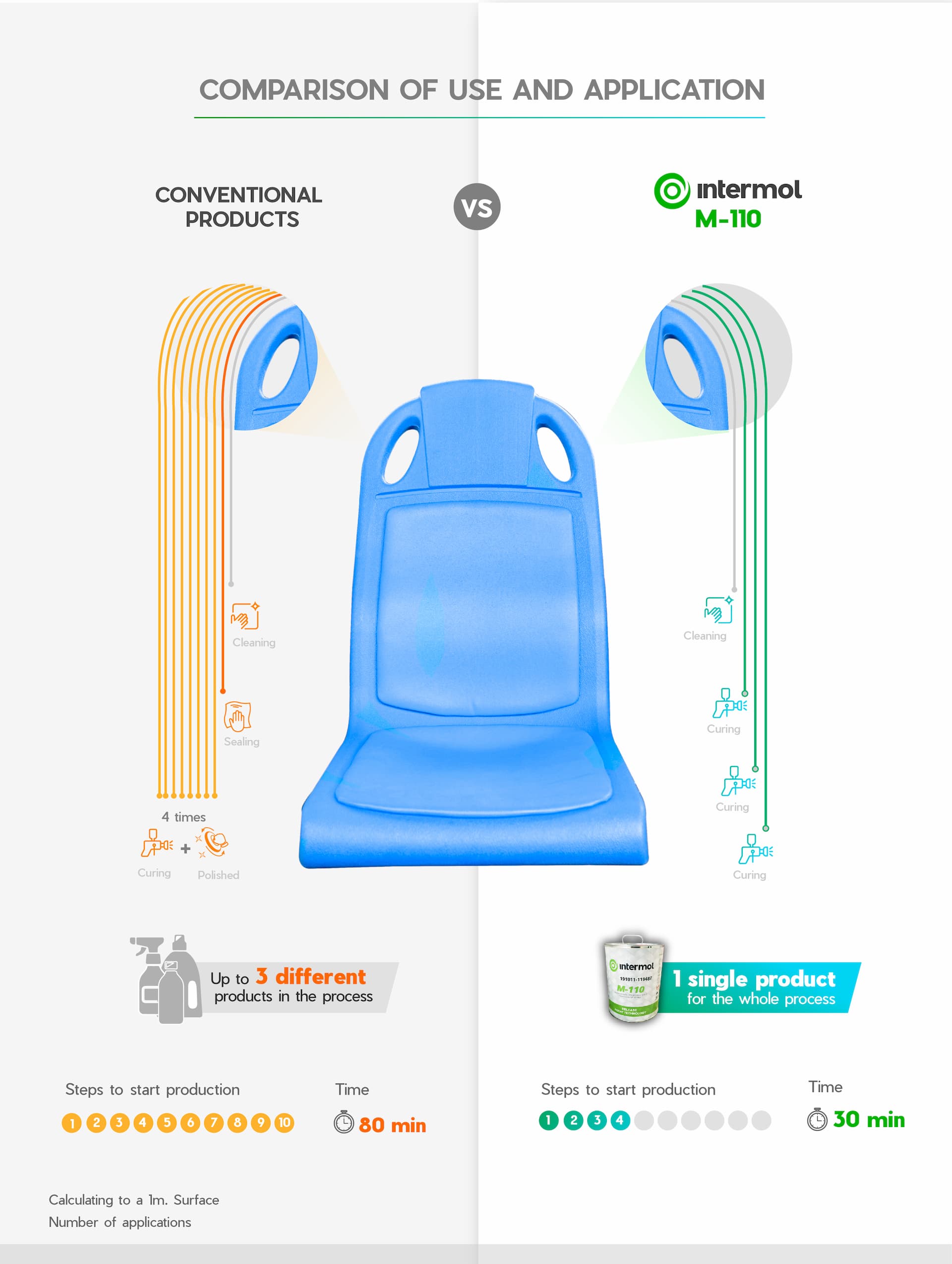 New generation release agent: Intermol M-110
Intermol has developed a product with a unique technology free of waxes and PVA's for the demoulding of parts made with Polyester, Vinyl Ester and epoxy resins (including fiberglass and other composites).
Advantages of the Intermol M-110 for fiberglass and composites:
- Easy 1-step application.
Being free of waxes, the polishing process is completely eliminated.
- Semi-permanence.
Depending on the geometry and complexity of the mould, it can produce from 3 to 10 parts with one application.
- Material compatibility.
Works with various gelcoats and resin types, as well as different types of moulds.
- Productivity.
The elimination of curing steps and their semi-permanence increases the number of parts you can manufacture per shift.
- Cost-Benefit.
The use of by-products and auxiliaries such as sealants and special cleaners is eliminated and the cost of release agent per part is drastically reduced.
- Thermal stability.
Can withstand the exothermic process up to 150°C.
Download Intermol M-110 data sheet
Download the Intermol M-110 safety data sheet