How to duplicate rotomolding productivity.
Benefits of selecting a high performance release agent.
Author: Alejandro Domínguez M. | adominguez@interlub.com | May 08, 2020
Rotomoulding began to be used in 1920, however, it was until 1980 with the introduction of new types of plastics such as Polycarbonate, Polyethylene, Nylon and others, that a new way of producing plastic parts of all kinds of geometries and colours began in Chicago. Tanks, furniture, children's games, kayaks, traffic signs are some of the most common.
Today most manufacturers use high, medium or low density polyethylenes but they can also be combined with some others such as cross-linked and nylons in order to give greater hardness and other properties to their creations.
One of the great advantages of this process is that large and small parts can be produced easily and cost-effectively. Because the parts are formed with heat and rotation rather than pressure, the moulds do not need to be designed to withstand the high pressure of injection moulding, and the initial investment is lower because you do not have to pay for expensive and complex machines.
Steps in the rotomolding process
Basically, the rotomolding process involves four steps:
0. Mold release film formation:
A mold cure must be done with a suitable release agent to prevent the parts from sticking to the cavity and help the material to slide properly.
1. Load:
A predetermined amount of powdered material is introduced into the cavity.
2. Heating:
The moulds are rotated biaxially inside a heated oven or direct fire so that the material is distributed and melts on the inner surface of the mould or cavity.
3. Cooling:
While still rotating, the moulds are taken out of the oven and placed in a cooling station; the moulds are tempered by leaving them at room temperature or by means of fans and water spraying (mist).
4. Demould:
Once the part is below 50°C and is completely solidified the rotation movements are stopped and the mould is opened to remove the part.
In this way the release agent plays a very important role in terms of productivity and quality interacting directly in:
- Surface finish
- Mould release facility
- Residue in the mould (cleaning cycles)
- Number of parts per hour
The use of a suitable release agent can double the number of parts produced without having to invest in more machinery and moulds.
Conventional release agents can do the job, but in the long run they will make your process inefficient.
Intermol has developed a special line of release agents for this process that among its unique characteristics in the market are: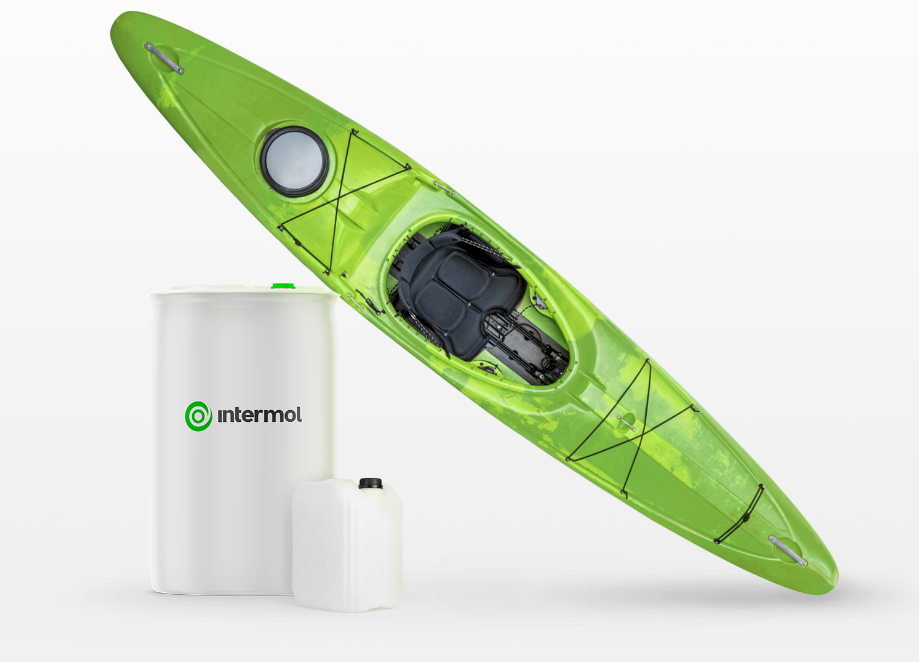 • Film of high thermal stability materials: The film will not break, crack or be lost. Working temperatures can range from 10°C to 150°C in just a few seconds, so a robust material that behaves at height is required.
• Antioxidant agents: It is common for water based release agents to start accelerating the oxidation process of the mould and after several days the residue is such that the mould has to be lowered for washing. Intermol release agents delay oxidation and yellowing of molds, extending the cleaning cycle up to weeks.
• Semi-permanent: A robust film can remove up to 15 pieces; depending on the complexity and colour of the piece, replication or retouching can be avoided on each piece.
• Anti-static agents: Constant friction between metal and plastic generates static forces and this can lead to the pigments caking at charged sites and not mixing homogeneously creating swirling and discoloration patterns.
In the Americas, most producers are not using the right mold release agent, making their operations less productive and competitive.
Visit our rotomolding site